In December of 2020, I shared the idea for DoTadda with Jerry.
Jerry became our CTO.
In March of 2021, DoTadda, Inc. became a Delaware C Corp.
Jerry brought on Andrew, and Andrew brought on Will.  We now had a CTO and 10x full-stack developer, and a talented UX designer.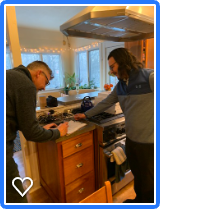 We built an app that allows individuals and teams to organize files and emails.  It works, and it is simple.  Simplicity is our 10x feature.  
I have two hypotheses, 1) Most project management software is built for tech people by tech people.  2) Ergo, many non-technical people are left out when using these apps because they are too hard to use or require extensive training.  The popular project management apps have 100s of YouTube training videos.  
DoTadda takes ten minutes to learn.
If you have a non-technical teammate who can use email, they can use DoTadda.  My Dad is 92 and he uses email.  He can use DoTadda, but Monday or ClickUp, probably not.
What went right in 2021?  We got the team in place.  We launched a closed beta.  We have lots of feedback.  We have functionality with email, manual file uploads, automated file uploads with Google Drive, Rich-text Notes, multi-player mode, and more.  We honed our value proposition.
I took classes in copywriting, and I am getting better.  
What went wrong?  The lead salesperson for a small asset management firm wanted to use DoTadda for his CRM.  We're not really a CRM, but it was better than his spreadsheet...much better.  He tried Salesforce, but with no support at the lowest tier, he just got video tutorials.  He said he spent hours and gave up.  DoTadda worked for him right out of the box, but alas, our newness hurt us, but there is a silver lining.  They loved the product and he mentioned "simplicity" upfront.

What else went wrong.  Not much.  We probably moved too many focus areas around on the concept board.
I waited too long to outsource bookkeeping and accounting, but that is done now.
What do I think 2022 will bring?
Features-wise, more integrations to cloud storage.  We have Google Drive today, but the options need to be expanded.  DoTadda will play better with calendar appointments.  Private and Public timelines are on the road map too.
We expect to complete our trademark with the USPTO and add development talent.
I hope we can open our doors to everyone in 2022.  I'm not really worried about paid versions yet.  We'll figure out paid at the right time.  Figma was free for 2-years, so we're in good company.
If you're interested, join our waitlist or email me at ameister@dotadda.com to get on our beta or just to meet me.  It would be great to compare notes or answer questions.